This post contains affiliate links, see full disclosure for more details.
Meatless Protein Sources
Yes, it's possible! And yes, there are TONS of meatless protein sources available, many of them in foods you'd never suspect.
I've been married to a vegetarian for twelve years now, and while I have never made the full commitment to a meat-free lifestyle, I've learned a lot about plant-based cooking and nutrition since the vast majority of our home-cooked meals are vegetarian.
The number one thing people ask about a vegetarian or vegan diet: But how do you get enough protein?!?!?
Turns out, that's the surprisingly easy part of the equation, especially today compared to a decade ago.
Check out all our family's favorite meatless protein sources below!
First Things First
How much protein do you really need?
This graphic from Women's Health magazine (source link) is very helpful: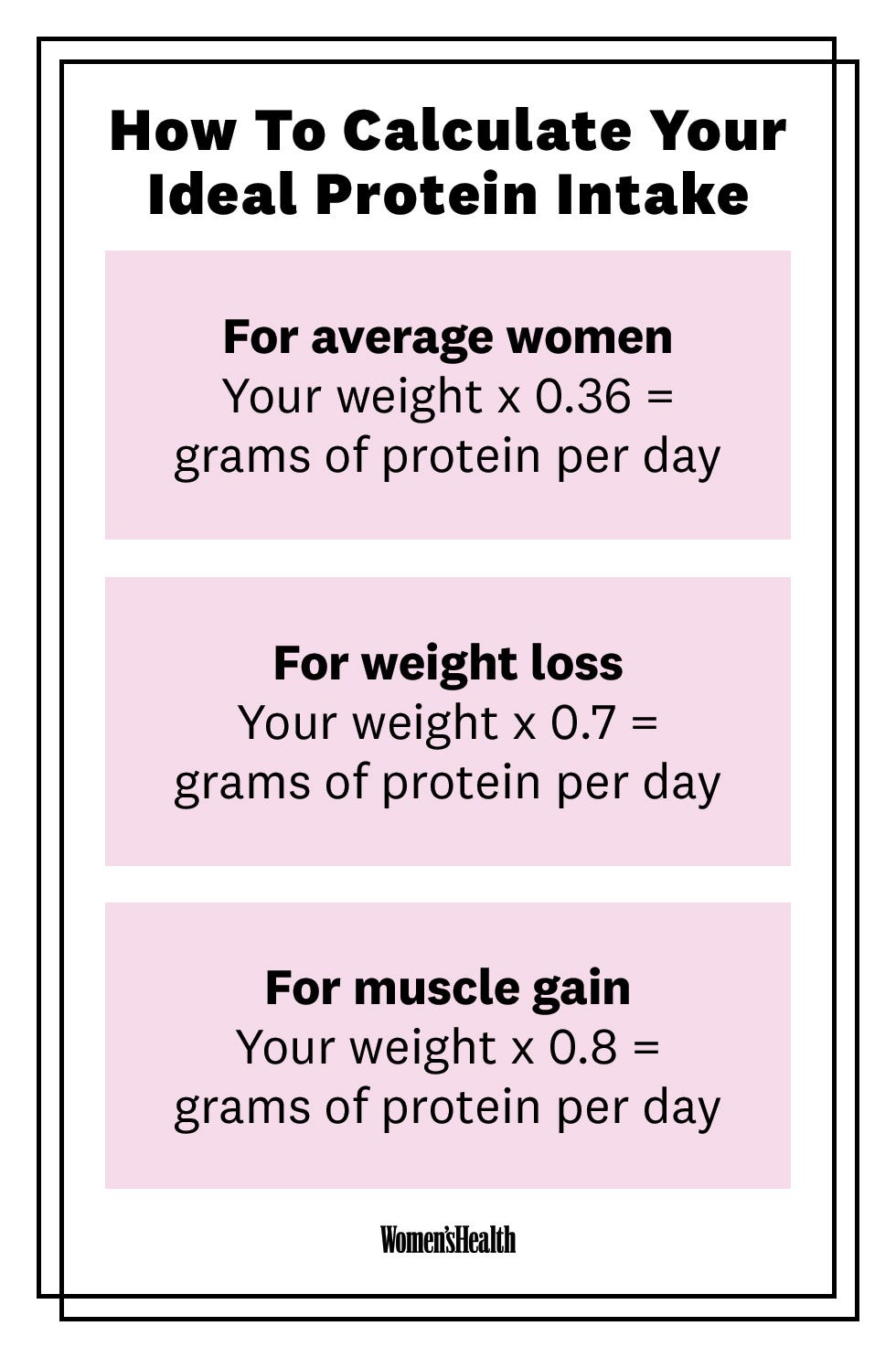 So, a woman who weighs 150 lbs should be getting about 54 grams of protein per day. Once you've made your own calculation, check out the list below to see where you can add protein to your diet.
Grains
Sprouted whole-grain bread, like this loaf from Target. One serving gets you 6 grams of protein.
Quinoa – One cup of cooked quinoa has 8 grams. We get ours from Costco – the price is way better there.
"Alternative" pastas, like Banza chickpea pasta (13 grams per serving), or our favorite: Go Go Quinoa pasta, with 5 grams per serving, and a better flavor/texture, in my opinion.
Oats – Half a cup of raw oats has 13 grams. I had no idea about this one until recently! I just assumed oats were empty carbs – nope!
Nuts & Seeds
Pumpkin seeds – 1 ounce (28 g) has 5 grams of protein, with 125 calories.
Hemp hearts – these seeds are easy additions to a smoothie, yogurt, or muffin, and they get you 10 grams per serving.
Peanut butter – 2 tablespoons of peanut butter on sliced fruit will boost the total protein content by 8 grams. This is an easy way to get a protein boost and satisfy a sweet tooth at the same time.
Almonds –  6 grams per ounce. Sprinkle some slivered almonds onto a salad or grab a handful on the go.
Dairy
Cottage cheese – A cup of cottage cheese with 2% fat contains 27!!! grams of protein. This is my vegetarian husband's go-to snack.
Greek yogurt – Non-fat Greek yogurt has 17 grams of protein per one 6-ounce (170-gram) container, with only 100 calories. Make sure to choose one without added sugar. Full-fat Greek yogurt is also very high in protein, but contains more calories.
Milk – one cup of whole milk contains 8 grams of protein.
Eggs* – Okay, not really dairy, but a major staple for many vegetarians and others looking to reduce meat. 1 large egg has 6 grams of protein, with only 78 calories.
Veggies/Fruits
Who knew you could find protein in so many vegetables?! This is one of those "hidden" protein sources often overlooked. Protein isn't just about the meat.
Edamame – There's a reason edamame has been a major health trend the past couple of years: one cup of edamame has 17 grams of protein. That is A LOT of protein for a vegetable. You can find it in most freezer sections, often in a steamable bag.
Spinach – 3 g per ½-cup serving (cooked). I throw a handful of spinach into my smoothies, or it's a good one to hide in muffins, casseroles, etc. Last night we put some finely chopped spinach in our taco filling, and it was delicious!
Broccoli – 1 cup of chopped broccoli has 3 grams of protein, with only 31 calories. It is also loaded with vitamin C, vitamin K, fiber and potassium. Calorie for calorie, it is very high in protein compared to most vegetables.
Avocado – 2 g per ½ avocado. Not a ton, but a good justification for another slice of avocado toast, right?
Legumes
Beans and legumes are a staple of many vegetarian diets. Some of our favorites are listed below
Lentils –  a cup of boiled lentils contains 18 grams of protein. Lentils make a good ground beef alternative – use them in sloppy joes, for taco filling, or in a stew.
Green peas – One cup contains 7.9 grams—about the same as a cup of milk.
Chickpeas – 6 g per ½-cup serving. Hummus is a good, protein-rich option for dipping veggies or making sandwich wraps.
Black beans – 7.6 g per ½-cup serving (cooked).
Meat replacement products
Tofu – I know people have mixed opinions about soy products, but we use tofu at least 1-2 times per week in our home. I like to cube and bake it with a teriyaki marinade or crumble it to include in a stir-fry dish.
Tempeh – 15 grams per 1/2 cup. If you dislike the texture of tofu, try this instead. Like tofu, it absorbs the flavor of your marinade or spices very well.
Beyond burgers – these are the absolute best veggie burgers on the market! A decade ago, our options were extremely limited, but now there are companies like this creating quality product for meat-free consumers.
Quorn brand items – soy-free meat replacements like these 'meat' grounds that we use for taco filling or other recipes calling for ground beef.

Need help with meatless recipes?
The Dinner Daily is a meal planning service that offers tons of meat-free recipes and meal plans, complete with shopping lists based on your local store's sales. Give it a try for two weeks. We did, and it sparked a lot of new meal ideas for us that we now have in regular rotation!
What are your favorite meatless protein sources and/or recipes? Comment below!
Sources: